Water demineralization is based on positive (cation) or negative (anion) ion removal or reduction during the flow of water, firstly through a cation-exchange resin column and then through an anion-exchange resin column. As a result, we obtain water devoid of most of the dissolved minerals.
The quality of water obtained in this process depends on various factors. The notions "high quality of water" and "pure water", frequently used when discussing deionization of water, refer only to the level of dissolved minerals. The ion exchange process does not reduce the bacteria content in the water. In order to remove bacteria, an additional UV lamp needs to be installed in the system or another solution should be used.
The device consists of columns (cation or anion exchanger), equipped with automatic multi-way heads or a valve system and controllers that ensure maintenance-free regeneration cycles.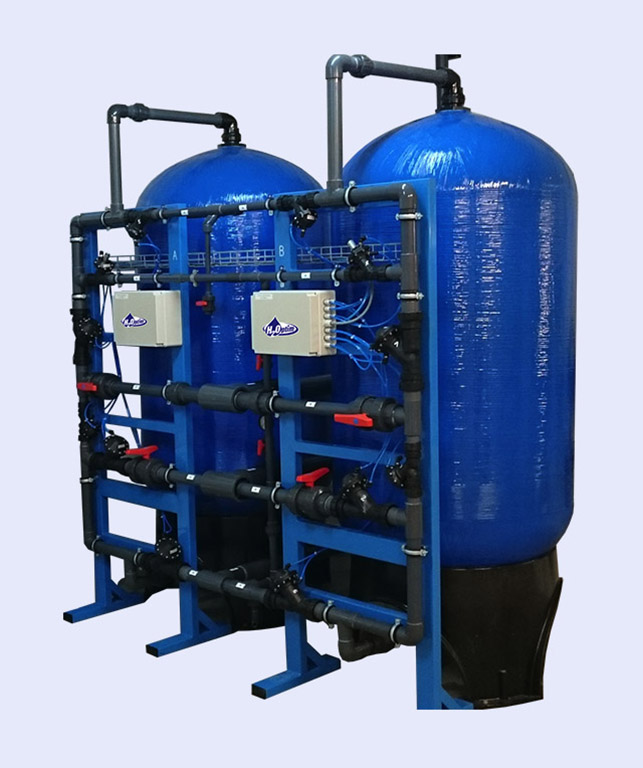 OPTIM 130 – 1000 (data for 1 column)
MODEL

Ion capacity

[oF x m3]

Salt consumption(1)

[kg/1reg.]

Nominal flow rate

[m3/h]

Maximal flow rate

[m3/h]

Pressure drop (2)

[bar]

Media volume [dm3]

OPTIM 130

520 – 910

10 – 29

3,2

5,2

0,1

130

OPTIM 180

720 – 1260

14 – 40

4,5

7,2

0,2

180

OPTIM 210

840 – 1470

17 – 46

5,3

8,4

0,3

210

OPTIM 300

1200 – 2100

24 – 66

7,5

12

0,4

300

OPTIM 500

2000 – 3500

40 – 110

12,5

20

0,6

500

OPTIM 700

2800 – 4900

56 – 154

17,5

22

1,0

700

OPTIM 1000

4000 – 7000

80 – 220

22 (25*)

22 (40*)

1,7

1000
(1) depends on Ion capacity
(2) for nominal flow rate
(*) only side mounted with additional aquamatic valves (low backwash rate)